Branson Aquarium at the Boardwalk
Branson is a great place to visit for vacations and weekend getaways. There are tons of attractions and things to do there, but the Branson Aquarium at the Boardwalk is THE BEST and newest attraction in the middle of all the action. For more things to do in Branson, check out Best Things to do in Branson, MO. Scroll down for all you need to know about the Aquarium!
First when you enter, you will have a nice & scary photo taken with a giant octopus, it's available for purchase later.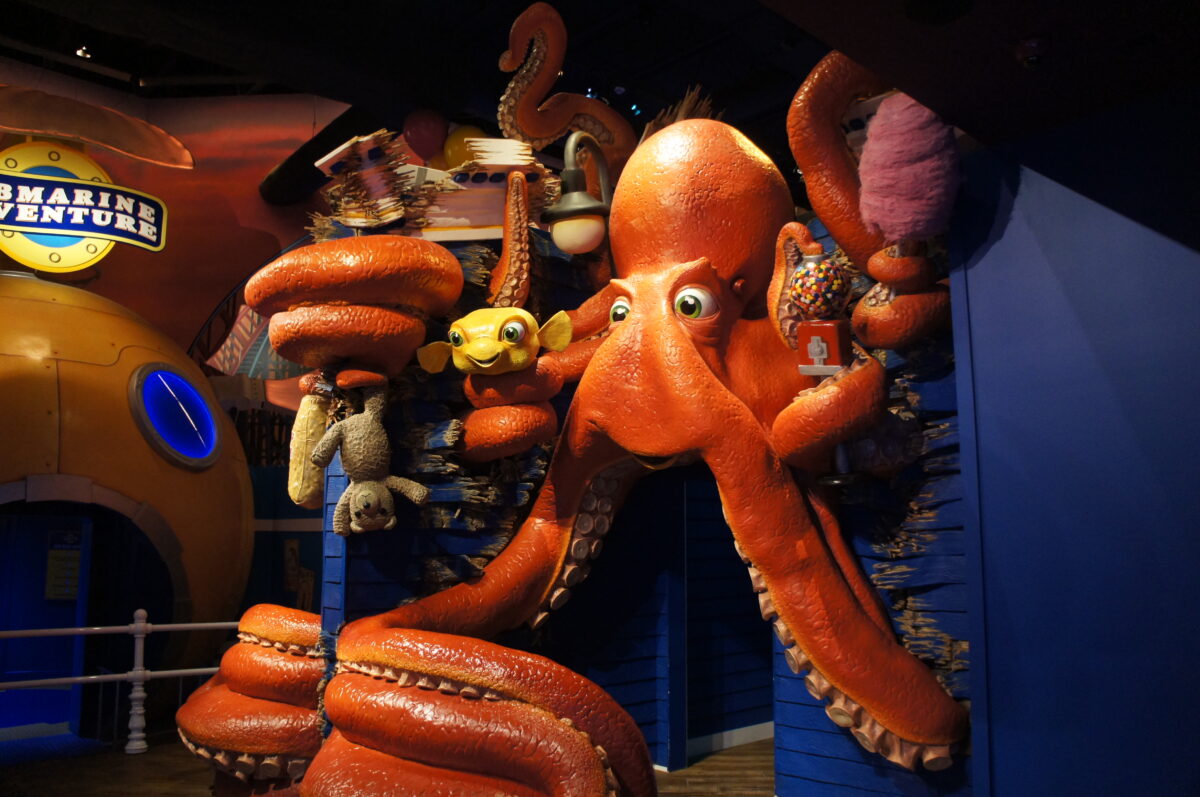 After the picture, you'll enter and be directed into a 5D Theater where you will have a short video experience to start your journey! This is quite unique and cool.
Then, you'll actually enter the Aquarium with sea creatures. One of the first things you'll see is a big red octopus at the beginning of the Aquarium, you'll see many different fish and lots of sharks throughout. There is a unique mirror room full of jellyfish that can change color, a big water tunnel that makes you feel like you're swimming with the fish. You'll go into a huge mermaid palace room with photo areas for taking pictures.
Finally, there's an activity room at the end where kids can touch stingrays, climb a climbing tree, draw ocean creatures and watch them come to life and a big gift shop. We've been to quite a few aquariums including the one in Atlanta, but this one is unique and has a few better things to offer. Right now (March 2022) they're making a big waterfall right in front of the Aquarium.
Be ready for a photo at the beginning, but you're not required to purchase it.
You can buy combo tickets online for the Branson Aquarium AND Hollywood Wax Museum
There's discounts available for military personnel, groups, non-profits and residents 
Cameras and taking pictures is allowed but using FLASH is not allowed 
Other Activities near the Branson Aquarium
Hollywood Wax Museum, Castle of Chaos, Shoot for the Stars Mini Golf
Titanic Museum
Lots of Shows
Dinner and Show Cruises
The Boardwalk
Silver Dollar City
Parks and Hiking Trails
and more!
Take me to the Branson Aquarium!
For directions to the aquarium, click the map above and punch in your "from" address.
If you enjoyed reading this post, be sure check out the photos and our recommended posts below. Click here for the Aquarium at the Boardwalk website!
Traveling on a budget is possible with our great tips for budget travel planning and how to get deals on lodging, attractions and transportation. Check out our Budget travel post.